As some of us don't have the happiness of being in New York tonight,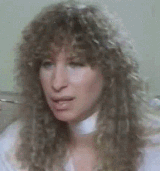 ...then perhaps as a compensation, a generous soul, who is not me
, 
(BarbraJC...thanks!) put four new videos on youtube that I had never seen before.
The quality is not exceptional, but as it is always rare to find something like that, we can not complain.
This one I had never seen before complete.
Oh ... and as an extra, another short video from our friend Gustavo. 

..So we don't have a concert...but we can have some Babs fun too..